Whether you're the one scheduling the meeting or just attending, there are certain things you can do to make sure online business meetings are productive and run smoothly. Here are seven tips to help make your following online Business Meeting etiquette a success:
Have a Purpose and Goal for the Meeting:
The most important tip for your Online Business Meeting etiquette is to take some time to think about what you want to achieve Before you even schedule the meeting. What are your goals? What do you expect from the meeting?
Once you have a clear idea of what you want to accomplish, it's time to think about who should be in attendance. Do you need all your team members there, or will a smaller group suffice?
And if you're meeting with a potential client or partner, be sure to invite them to the meeting as well.
Once you have all the details sorted out, it's time to send out that all-important meeting invitation. Be sure to include all relevant information, like the date and time. And don't forget to remind everyone about the goal and purpose of the meeting!
Correspondingly, checking your platform's video, audio, and network settings before meetings is essential. Otherwise, you'll run into technical issues during the call.
To ensure the meeting runs smoothly, assign roles to participants before starting. That way, everyone knows what they need to do.
Establish Ground Rules and Send an Agenda in Advance: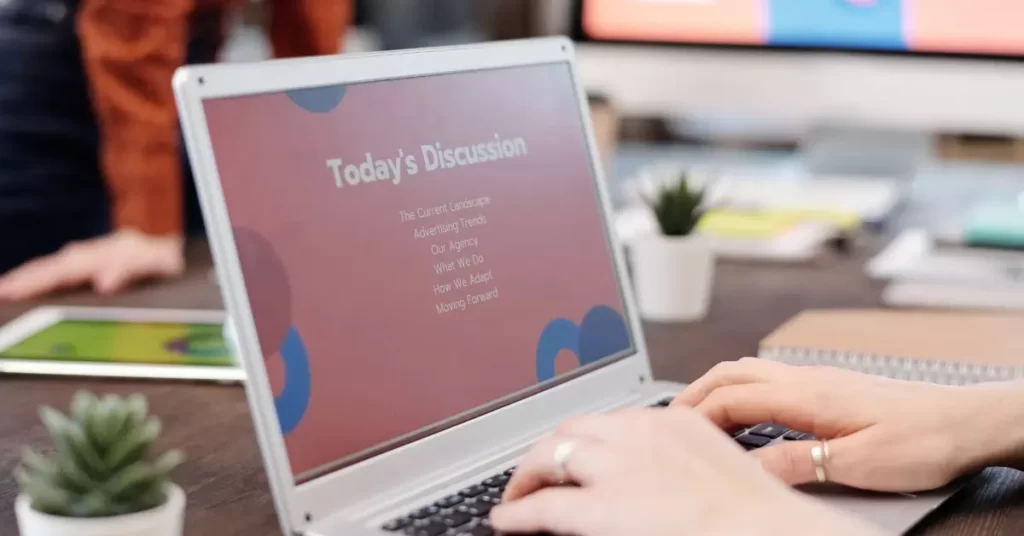 An excellent online Business Meeting etiquette tip is to do some essential preparation. Before your meeting starts, it's important to set some ground rules. This will help keep things running smoothly and avoid any potential misunderstandings.
One easy way to do this is to send an agenda in advance. If you don't create a clear agenda for your meeting, you might spend a few minutes trying to figure out what you want to accomplish. Your thoughts may confuse you, and you lose focus if you don't prepare in advance.
When creating an agenda for your meeting, include items that will engage your participants. This will make your online Business Meeting etiquette more successful.
When creating a meeting agenda, you may want to consider who needs to attend the meeting, the key topics of discussion, how long each conversation should last, and if any pre-reading or other relevant documents need to be sent in advance.
This will allow everyone to prepare for the meeting and come up with any relevant questions or comments.
Keep Meetings Shorter Than 60 Minutes:
The third rip for online Business Meeting etiquette is keeping your online business meetings shorter than 60 minutes. That's long enough to get the important stuff done, but not so long that people will start to lose focus.
Shorter meetings allow for more frequent communication, which can be essential in keeping everyone on track. If you have a lot of information to share, break it up into several shorter meetings instead of one long one.
This will help keep everyone on track and make the meeting more manageable. And allows for more discussion and less time wasted on small talk. And also, make sure to plan your meeting and stick to it. This will help everyone stay focused and avoid wasting time.
Some tips for shortening meetings include better online Business Meeting etiquette:
Establish clear and concise goals for the meeting.
Establish a timeline for completing the goals of the meeting.
Limit the amount of discussion that takes place during the meeting.
Review the goals of the meeting before the meeting and ensure that the plans are still relevant.
Encourage participants to submit their thoughts and ideas in writing or summary form.
Begin and End on Time:
The fourth tip for online Business Meeting etiquette is Sticking to the scheduled time for a meeting is not only about when you join the meeting but also when you leave. A conference shouldn't last longer than it is planned for.
Start and end your online meeting on time. This may seem like a no-brainer, but you'd be surprised how many people don't do it. Respecting other people's time is necessary, mainly when you're all scattered across different time zones.
And speaking of time zones, be mindful that not everyone is in the same one. When scheduling your meeting, make sure to take into account the time difference so that everyone has a chance to participate.
However, it becomes increasingly important to ensure you are aware of your audience and use an easily manageable time zone and language that everyone can understand.
This will help ensure that meetings result in clarity, not confusion and hardships, which leads to successful etiquette of online meetings.
Encourage Participation:
The fifth tip for online Business Meeting etiquette is vital to encourage your team's participation in conversation and concern. Sometimes people might be shy or intimidated to speak up in a face-to-face meeting, but that might not be the case in an online setting.
Make sure you give everyone a chance to share their thoughts and ideas and don't be afraid to let the conversation wander off-topic every once in a while. The more open and informal the meeting is, the more productive it will likely be.
Another important Online Business Meeting etiquette is to be clear that it's the responsibility of the meeting organizer and the attendees to ensure the meeting stays on track. If the meeting starts to drag on, people will naturally start looking at other apps on their phones.
It's the organizer's job to keep things moving and everyone's responsibility to pay attention and ask questions. If you hesitate for a moment before reacting or questioning something someone has said, it can help to avoid misunderstandings.
For example, if no one speaks, you can assume everything is okay. But if someone else starts talking, wait until they finish before you say anything. However, always keep in mind that this is online communication, and not everyone's internet connection will be stable.
Keeping Distractions to a Minimum:
The sixth tip for online Business Meeting etiquette is to find a place to have your conversation where you won't be interrupted. Any sort of distraction has the potential to ruin online meeting etiquette.
Just because your coworkers might not notice if you're looking at your phone or doing something else on another screen doesn't mean you should. Try to have your conversation in a place where you won't be interrupted.
Before joining a meeting, make sure to either turn off your phone or put it on silent. If you're using your phone for the call, switch off your computer. This will help avoid any notifications from other apps or browser windows.
You should work in a quiet room without distractions like music or loud equipment. Make sure to let your family or roommates know not to interrupt you while in the online meeting.
Even though you're not physically present, online Business Meeting etiquette doesn't have to go out the window. Just apply the golden rule and treat others in the meeting as you would like to be treated.
Follow Up With Action Items:
The final online Business Meeting etiquette is your way to end your online meeting as a host or participant is very important.
An excellent way to do this is by having action items such as After each session or presentation, and you can ask the audience for any final thoughts or questions on the topics just discussed. This process shouldn't take any longer than 30 seconds per speaker.
When giving a closing remark at a conference, it is essential to be clear, concise, and upbeat. Try to briefly summarize the main points of the conference while remaining polite and cheerful.
Another critical online Business Meeting etiquette is If a participant has other essential tasks to take care of, they are allowed to leave. If a colleague is not from your team, they might have only joined to take quick notes, so letting them go in a polite tone is the best.
Finally, as a host, you should wait until all other participants have exited the conference before ending the stream.
Turning off the video call while other participants are still talking is against the online Business Meeting etiquette and can be disrespectful.
Conclusion
It's no secret that more people are working these days remotely. Studies show that about 52% of people work remotely at least once weekly.
This means that the likelihood of you meeting someone who is working remotely today is higher than it's ever been before.
So, what does this mean for the way we do business? Well, it's essential to be aware of the trend and to be prepared to meet new people where they are – often online or over the virtual meeting etiquette.
Businesses have seen the advantages of online work and planned to take advantage of this trend for a while. It is very much possible that the culture of remote working will live on even in the post-covid era.
Thus, learning all the online meeting etiquette and being respectful of each other's boundaries is compulsory.
As more and more workplaces are moving/switching online business, it is becoming increasingly important to know online business meeting etiquette during any online meeting.
Following these simple tips ensures that you are as productive and engaged as possible during these meetings.